Podcast: Play in new window | Download
Subscribe: Apple Podcasts | Google Podcasts | Spotify | RSS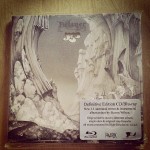 Produced by Robert Nasir, Jeffrey Crecelius, Wayne Hall, Preston Frazier and Bill Govier.
No singles were released from Tales From Topographic Oceans – unless you know differently…so we have skipped right along to Relayer and its single, Soon which had an edit of Sound Chaser on the B side. We also discuss Cruise to the Edge and there's plenty of other news as well.
What does Soon sound like, ripped out of its rightful place in Gates of Delirium?
Sound Chaser as a B side? Really?
Is there anything else which could have been released?
Listen to the episode then let us know what you think!
Become a YMP Patron!
If you would like to support the Yes Music Podcast, there is a Patreon page where you can sign up.
The iOS and Android YMP apps are no longer available unless you have an old version still on your device.
---
Show notes and links
Get your Yes 50th Anniversary free pass here
Join the 50th Anniversary Facebook group here
---
YMP patrons:
Robert Nasir | Jeffrey Crecelius | Preston Frazier | Bill Govier | Wayne Hall |
…
Joseph Cottrell | Michael O'Connor | Paul Tomei | Geoffrey Mason | Lobate Scarp | Fergus Cubbage | Steve Dill | Steve Scott
…
Paul Wilson | Jamie McQuinn | Miguel Falcão | Ken Fuller | David Pannell | Brian Sullivan | Joost Doesburg | Jeremy North | Tim Stannard | David Watkinson | Steve Roehr | Geoff Baillie | William Hayes | Terence Sadler | Neal Kaforey | Simon Barrow |
…
Robert
---
Please subscribe!
If you are still listening to the podcast on the website, please consider subscribing so you don't risk missing anything. You can subscribe with an RSS reader, with iTunes, with the iOS Podcasts app, via email updates, via www.stitcher.com on Spreaker.com or via Tunein.com.
Theme music
The music I use is the last movement of Stravinsky's Firebird Suite. This has been used as introduction music at many Yes concerts. My theme music is not take from a live concert – I put it together from the following two creative commons sources:
thanvannispen
and
archive.org