Podcast: Play in new window | Download
Subscribe: Apple Podcasts | RSS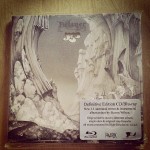 Produced by Robert Nasir, Jeffrey Crecelius, Wayne Hall, Preston Frazier and Bill Govier.
No singles were released from Tales From Topographic Oceans – unless you know differently…so we have skipped right along to Relayer and its single, Soon which had an edit of Sound Chaser on the B side. We also discuss Cruise to the Edge and there's plenty of other news as well.
What does Soon sound like, ripped out of its rightful place in Gates of Delirium?
Sound Chaser as a B side? Really?
Is there anything else which could have been released?
Listen to the episode then let us know what you think!
Become a YMP Patron!
If you would like to support the Yes Music Podcast, there is a Patreon page where you can sign up.
The iOS and Android YMP apps are no longer available unless you have an old version still on your device.
---