Podcast: Play in new window | Download
Subscribe: Apple Podcasts | RSS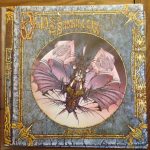 Produced by Jeffrey Crecelius, Wayne Hall, Preston Frazier, Bill Govier and VR Hoisington
With Jon Anderson playing two songs from Olias of Sunhillow live on his 1000 Hands Tour, we felt it was time to watch/listen to some recordings of Olias material from through the years. This is music which has not been performed very often – and we think it should have been.
Listen and let us know what you think!
What Olias songs are being performed live in 2019?
How does the band configuration work?
What about older recordings?
Become a YMP Patron:
If you would like to support the Yes Music Podcast financially and also have access to exclusive activity and opportunities, there is a special page you can use to sign up and 2019 is the time to join us:
Become a Patron!
---
https://www.youtube.com/watch?v=NHyPpYDm1SM Flight of the Moorglade 2019 (can't be embedded)
Show notes and links