Podcast: Play in new window | Download
Subscribe: Apple Podcasts | Google Podcasts | Spotify | RSS
Produced by Joseph Cottrell, Ken Fuller, Wayne Hall and Jeffrey Crecelius
In a change to the advertised episode, Mark and I thought it was essential to give our thoughts on the new Yes single Cut From The Stars so most of this episode is devoted to the best new Yes music for many years.
How does this new Yes music compare to The Quest?
Does it sound progressive?
Does it increase the anticipation for the new album?
YES announce new studio album
'Mirror To The Sky' for release 19th May 2023;
launch first single 'Cut From The Stars'
YES, who are Steve Howe, Geoff Downes, Jon Davison, Billy Sherwood & Jay Schellen, are pleased to announce their new studio album Mirror To The Sky on InsideOutMusic/Sony Music on the 19th May 2023. "This is a very important album for the band," says Steve Howe, Yes' longest serving member, master guitarist, and producer of Mirror To The Sky. "We kept the continuity in the approach we established on The Quest, but we haven't repeated ourselves. That was the main thing. As Yes did in the seventies from one album to another, we're growing and moving forward. In later years, Yes often got going but then didn't do the next thing. This album is demonstrative of us growing, and building again." For Yes, that "next thing" is a collection of high energy, intricate, lush and layered new studio songs for an album which adds to the band's much heralded legacy, while charting a path to exciting future times ahead.
Today also sees the launch of the first track taken from the album. Listen to Cut From The Stars & watch the video here: https://www.youtube.com/watch?v=NdEF-vMO8vc
'Mirror To The Sky' will be available on several formats, all featuring artwork by longtime Yes artist & collaborator Roger Dean:
Ltd Deluxe Electric Blue 2LP+2CD+Blu-ray Artbook with poster
Ltd Deluxe 2CD+Blu-ray Artbook
Ltd 2CD Digipak
Standard CD Jewelcase
Gatefold 2LP+LP-Booklet
Digital Album
The blu-ray editions include the album as Dolby Atmos, 5.1 Surround Sound, Instrumental Versions & Hi-Res Stereo Mixes.
Pre-order now here: https://Yes-Band.lnk.to/MirrorToTheSky
The tracklisting is as follows:
CD1:
1. Cut From The Stars 05:27
2. All Connected 09:02
3. Luminosity 09:04
4. Living Out Their Dream 04:45
5. Mirror to the Sky 13:53
6. Circles of Time 04:59
CD2:
1. Unknown Place 08:15
2. One Second Is Enough 04:04
3. Magic Potion 04:08
As they were wrapping up The Quest, Yes found themselves with song sketches, structures, and ideas that were demanding attention. Yes received unconditional support from InsideOut boss Thomas Waber, who encouraged them to keep going in the studio, months before The Quest would even go on sale. It was like throwing gasoline on their creative fire.
"When we delivered everything, and they were just getting the vinyl and everything into production for manufacturing, we were still very much in that creative zone," explains Steve Howe. "That belief that Thomas had in us really meant a lot," he says.
"We truly get along as people," says Jon Davison. "I feel like everyone's focused inward to the greater circle, concentric to the core of highest standards that define Yes. It's a wonderful thing to witness and of which to play a part. I believe this reflects vibrantly in the music and the creative input that each one is willing to apply, not for the benefit of the individual, but for the greater whole that is Yes."
"There was a lot of material floating around because the band hadn't done anything in the studio for so long. Ideas were just copious," says bassist Billy Sherwood. "The pace of it was fast. As soon as we were finished with The Quest, and the mix had come out, we took a couple of little breaks there to catch our breath. But there was still music flowing around in the loop. It was just constantly being looked at and worked on. As we were all home and in that mode, things started progressing quite swiftly. We just went one album into another without really announcing, 'Hey, we're working on a second record right now.' We just continued to work on material. It came about pretty naturally, and then we refined it as the process went on. But the initial bursts — there was a lot of material around!"
Much to everyone's delight, including that of longtime-fan Thomas Waber, Yes have pushed into territory they practically invented — the prog rock epic — albeit in a thoroughly new and modern way. "I always felt that it would be great to have stuff that's a little bit more epic," he says, although he resisted the temptation to push for something that would be too formatted and could come off as contrived. He just gave the band space to do what they do and let things develop. "They were so excited by The Quest and the momentum they had that they went straight back in to the studio. What they were writing, even early on, was obviously headed in that epic direction — what Yes music really is to me. It is almost a genre onto itself. It is 'Yes Music.' Mirror To The Sky certainly is Yes Music."
Mirror To The Sky features not one, but four tracks clocking in at over eight minutes, with the sweeping and cinematic title track coming in just shy of fourteen minutes. What's more, the tracks, like Yes' best, take the listener on a wide dynamically ranging journey of soundscapes which also showcase Steve Howe's dazzling guitars, keyboard wizard Geoff Downes' impeccable sounds, exquisite melodies and fills, Jon Davison's angelic, crystalline vocals, Billy Sherwood's deftly dancing bass and Jay Schellen's masterfully controlled explosions, on drums.
Jay Schellen, who has been touring with the band since 2016, was hand-picked to step into his mentor and friend Alan White's role when White sadly passed away in 2022. "I had done the 2016 Topographic Drama tour on my own for Alan," say Jay. "From late 2017 onwards, we had a partnership, and a beautiful partnership, I might add. I learned so much, and discovered so much about Alan's style, and why it was the way it was. It fit his personality so perfectly. This album has Alan's presence all over it. It is inside of us. So this is still, in my heart, Alan just being present and with us, and with me, in a big way."
---
JOHN WETTON
An Extraordinary Life NOW ON PREORDER at www.johnwettonbook.com
7th March 2023: John Wetton An Extraordinary Life is now available for preorder in two editions of this very special and much anticipated book created with John's family and management. For a limited period, people can choose to be a part of it by adding a name to the Roll of Honour of supporters printed in the back. Preordering also comes with a discount on the standard retail price.
Both the Classic and black-jacketed Signature edition (signed by John's widow Lisa and son Dylan) contain the first-person testimony of some seventy-plus people who knew and worked with John from his school days and throughout his long, illustrious career, including Family, King Crimson, Uriah Heep, Wishbone Ash, Roxy Music, U.K., Asia, the John Wetton solo band and beyond. Among the stories of friendship, music and sometimes craziness in the book from Bill Bruford, Geoff Downes, Robert Fripp, Carl Palmer, Rick Wakeman, Phil Manzanera, Steve Hackett, Steve Howe and others, are reflections on what made John such an unforgettable musician, all-round good guy, and prog rock legend.
Along with tales of musical success from those who knew him best are testimony from friends and family, who do not steer clear of John's problems, but rather explain the why, the how, and eventual triumph over them, in honest and touching recollections. John Wetton An Extraordinary Life is only available to preorder at www.johnwettonbook.com; inclusion in the Roll of Honour will only be available for a limited period.
---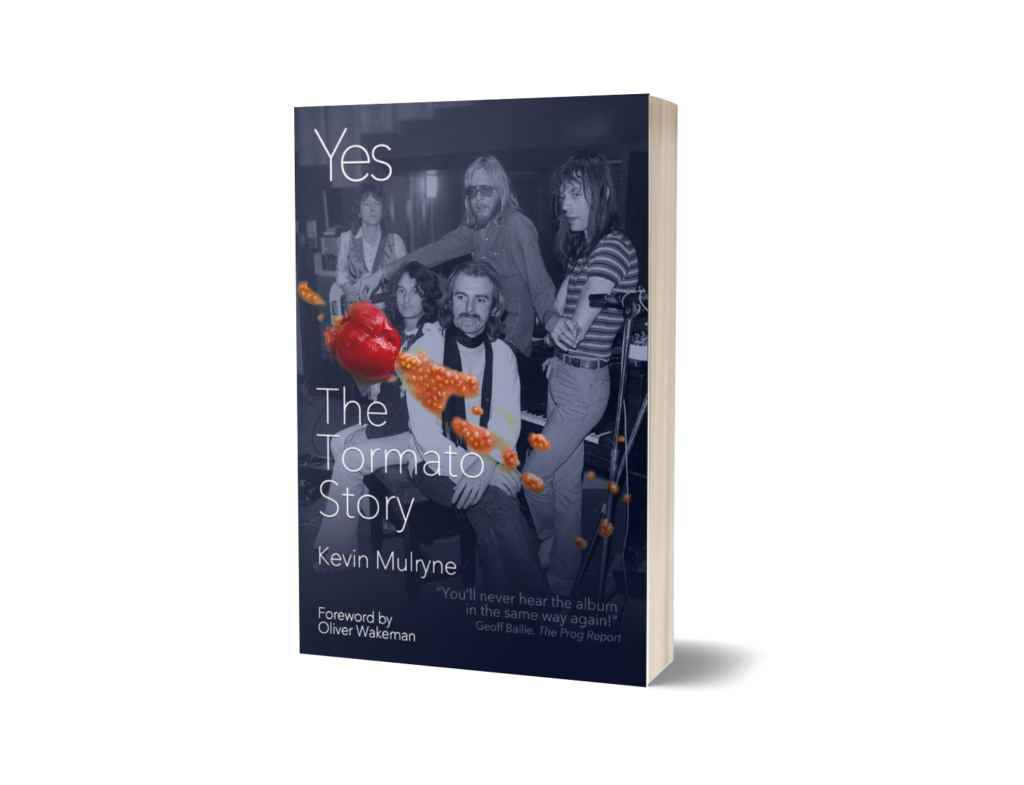 YMP Patrons:
Producers:
Joseph Cottrell
Ken Fuller
Jeffrey Crecelius and
Wayne Hall
Patrons:
Aaron Steelman

Dave Owen

Mark James Lang

Paul Tomei

Joost Maglev

David Heyden

Paul Wilson

Martin Kjellberg

Bob Martilotta

Lind

Michael O'Connor

William Hayes

Brian Sullivan

David Pannell

Lobate Scarp

Miguel Falcão

Chris Bandini

David Watkinson

Neal Kaforey

Rachel Hadaway

Craig Estenes

Dem

Mark 'Zarkol' Baggs

Paul Hailes

Doug Curran

Robert Nasir

Fergus Cubbage

Scott Colombo

Fred Barringer

David

Geoff Bailie

Simon Barrow

Geoffrey Mason

Stephen Lambe

Guy R DeRome

Steve Dill

Henrik Antonsson

Steve Perry

Hogne Bø Pettersen

Steve Rode

Declan Logue

Steve Scott

Todd Dudley

Jim

Jamie McQuinn

Steven Roehr

John Parry

Keith Hoisington

Alan Begg

Terence Sadler

John Holden

Barry Gorsky

Michael Handerhan

Tim Stannard

Jon Pickles

John Thomson

John Cowan

Tony Handley

Robert

Gary Betts

Jim Morrison

Facebook – YMP Discussion Group:
https://www.facebook.com/groups/3216603008606331/
---
Please follow/subscribe!
If you are still listening to the podcast on the website, please consider subscribing so you don't risk missing anything:


Theme music
The music I use is the last movement of Stravinsky's Firebird Suite. This has been used as introduction music at many Yes concerts. My theme music is not take from a live concert – I put it together from: archive.org