Podcast: Play in new window | Download
Subscribe: Apple Podcasts | RSS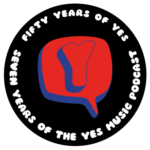 As we reach the end of 2018, it's time to look back at what the 50th Anniversary of Yes has brought – and the output of the YMP.
So Mark and I have collected together a few of our favourite moments. We hope you enjoy them.
What were the highlights of the YMP in 2018?
What went on in YES5o?
Which clips will be featured?
Listen to the episode then let us know what you think!
Episode 6 of Geoff Bailie's brand new Yes show! https://progreport.com/radio/
Live at 7pm UK and 10am Eastern Time on Fridays! Then, get it on iTunes/Apple Podcasts.
Yes50Fanconvention.com is now live!
Become a YMP Patron:
If you would like to support the Yes Music Podcast financially, there is a special page you can use to sign up and December 2018 is the time to join us:
Become a Patron!
---