Podcast: Play in new window | Download
Subscribe: Apple Podcasts | Google Podcasts | Spotify | RSS
Produced by Jeffrey Crecelius, Wayne Hall, Preston Frazier and Bill Govier
This week, Mark and I have been listening to the album which Jon Anderson released shortly after leaving Yes following the Big Generator tour, 'In The City Of Angels'. It's not exactly progressive rock but see if you agree with our assessment of the music and take a listen to an audio contribution on this subject from Stephen Lambe as well.
We also have time for a two pence about the latest Roger Dean Yes album cover and its public development as well as a very exciting YMP Announcement connected with what the YMP Patrons have been up to in secret lately. And that's not all. There's the result of the Dave Watkinson Warriors EP competition, news of Miguel Falcao's PlayForChris6 project and the official press release from Steve Howe about his new album. So, Look out for all that!
What's this album like?
Why did Jon go in this direction?
Is it worth buying?
Listen to the episode and let us know what you think!
If you would like to support the Yes Music Podcast financially and also have access to exclusive activity and opportunities, there is a special page you can use to sign up and 2020 is the time to join us: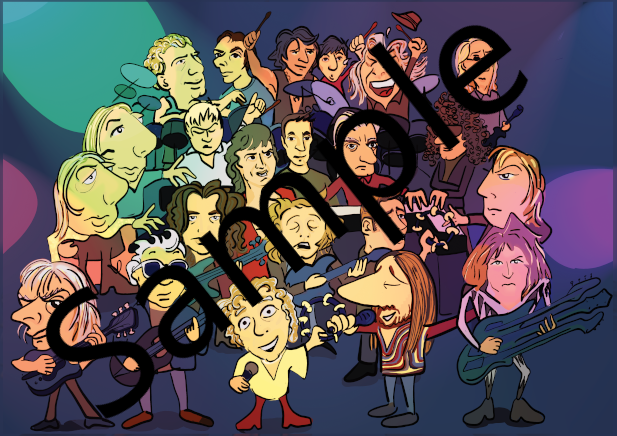 ---
Show notes and links:
Love Is
Release date 31st July
29th April 2020: Legendary Yes guitarist Steve Howe has announced he is to release Love Is on 31st July through BMG Records. Love Is is Howe's first solo album since the all-instrumental Time in 2011 and has a balance of five instrumental tracks and five songs.
The album will be available as CD – gatefold digi-sleeve with 12 page booklet and LP – Black vinyl 180gm with gatefold sleeve, liner notes and lyrics.
Link to Steve Howe Official store pre-orders: https://SteveHowe.lnk.to/D2CPR
Link to Amazon pre-orders: https://SteveHowe.lnk.to/LoveIsPR
Steve Howe sings lead vocals and plays electric, acoustic and steel guitars, keyboards, percussion and bass guitar on the instrumentals while Yes vocalist Jon Davison provides vocal harmonies and plays bass guitar on the vocal tracks. The album also features Dylan Howe on drums.
Many years in the making, Love Is brings together a consistently strong and polished listening experience, forging the very best from the writing and playing throughout the album. This may well be considered the real 'stand out' album of Howe's solo career. The instrumentals keep a highly progressive rock guitar style to the fore, with songs that explore stories of lives lived and lives only just begun. Love Is A River is the central longer song with several textural shifts, featuring a theme played on 12 string and steel guitars.
"I called the album Love Is because it hints at the central idea that that love is important but also love of the universe and the ecology of the world is very important," says Steve Howe. "Alexander Humboldt went around the world and recognised we are destroying the planet but that was 200 years ago! We are still destroying the planet and, I suppose, my songs show the yearning I have for the love of nature and how beauty, art and music all stem from nature. There is a theme about those things, love, beauty, ecology, nature and wonderful people.
"Love Is A River just seemed a very important track to me, a sort of quintessential track with lots of moods, lots of interesting things going on with steel guitars and acoustic guitars. Further tracks grew from time spent writing in my studio.
"See Me Through looks at the idea that we get through life by not driving ourselves that hard but attempting to achieve things with people who help you along the way and Imagination is dedicated to my granddaughter Zuni. It's about how I see some of the things she's experienced in her short seven years."
"I invited Jon Davison to sing harmonies with me and add bass on the songs. If he was singing on the songs I thought why doesn't he play bass as well and it turned out nice. He's been with Yes for seven or eight years and he's a great guy, great performer and a great interpreter of Yes songs.
"I've been singing for years, mainly in harmony but I've sung lead on lots of my own albums before and I feel that, as I've got older, I've got a grip on that and, hopefully, it's improved over the years."
The album includes many distinctive Steve Howe signatures among the instrumental tracks from the delicate beauty of Fulcrum, Beyond The Call and Pause For Thought to upbeat rock, The Headlands, and the jazz-tinged Sound Picture.
"The instrumentals are like a mood, a place I went to one day, thought this is nice and then I develop that to a point where it's a finished track. There might be key ingredients that I thought about using musically that I like, that I'm drawn to, and then developing them into something."
Love Is was written, engineered and produced by Steve Howe with further engineering and mixing by Curtis Schwartz. "I write in my own studio and then go to see Curtis in his studio," Howe explains. "We expand the tracks and put them on Pro Tools and everything starts to be possible. At some point, probably around 2 years ago, Dylan came down to Curtis's studio and we recorded the drums on some of the tracks. I could see a balance of five instrumental tracks and five songs and there was a feeling that it was an album, sitting there, looking at me."
The track listing for Steve Howe's Love Is album is:
1 Fulcrum (instrumental)
2 See Me Through
3 Beyond The Call (instrumental)
4 Love Is A River
5 Sound Picture (instrumental)
6 It Ain't Easy
7 Pause For Thought (instrumental)
8 Imagination
9 The Headlands (instrumental)
10 On The Balcony
Formats:
CD Catalogue No. 538608592
Gatefold digi leeve with 12 page booklet with liner notes by Steve Howe & lyrics
LP – Catalogue Number – 538608601
180gm Black vinyl in Gatefold sleeve with liner notes by Steve Howe & lyrics
Release date: 31st July 2020
Link to Steve Howe Official store pre-orders: https://SteveHowe.lnk.to/D2CPR
Link to Amazon pre-orders: https://SteveHowe.lnk.to/LoveIsPR
Roger Dean's live painting:
https://www.rogerdean.com/news/
YMP Patrons:
Producers:
Patrons:
Aaron Steelman

Dave Owen

Mark James Lang

Paul Tomei

Joost Maglev

David Heyden

Martin Kjellberg

Paul Wilson

Bob Martilotta

Lind

Michael O'Connor

Peter Hearnden

Brian Sullivan

David Pannell

Miguel Falcão

Lobate Scarp

Chris Bandini

David Watkinson

Neal Kaforey

Rachel Hadaway

Craig Estenes

Dem

Paul Hailes

Mark 'Zarkol' Baggs

Doug Curran

Robert Nasir

Fergus Cubbage

Scott Colombo

Fred Barringer

Scott Smith
Geoff Bailie

Simon Barrow
Geoffrey Mason

Stephen Lambe

Guy R DeRome

Steve Dill

Henrik Antonsson

Steve Perry

Hogne Bø Pettersen

Steve Rode

IanNB

Steve Scott

Jamie McQuinn

Steven Roehr

Ken Fuller

Terence Sadler

Michael Handerhan

Tim Stannard

Jim

Todd Dudley

John Cowan

Tony Handley

John Holden

Joseph Cottrell

John Parry

Keith Hoisington

John Thomson

William Hayes
Barry Gorsky


Robert and David
Please subscribe!
If you are still listening to the podcast on the website, please consider subscribing so you don't risk missing anything:


Subscribe on Android
Listen on Stitcher
Theme music
The music I use is the last movement of Stravinsky's Firebird Suite. This has been used as introduction music at many Yes concerts. My theme music is not take from a live concert – I put it together from the following two creative commons sources: thanvannispen and archive.org